My favorite Cadillacs have always been 1960-1970, primarily because that was when I was growing up and becoming really interested in cars. What I really liked was that every year was noticably unique...even from a distance, much unlike the cars of today. I tend to group Cadillacs of this era together by years based on their exterior appearance as opposed to mechanical or other differences. Please submit the poll at the end of this page to tell me which year models you like best. Everyone has their own opinions, but this is how I view them:

1960: Huge fins, although not as big as '59. More rounded lines, massive heavy looking front end similar to the '59.

1960 Series 62 Convertible



1961 - 1962: Lower fins added, sharper lines, simpler front end.
1961 Series 62 Convertible

1962 Series 62 Convertible



1963 - 1964: Lower fins are gone, cleaner look, '63 had slightly bigger fins than '64.
1963 Series 62 Convertible
1964 DeVille Convertible


1965 - 1966: Redesign including new front end with vertical headlights, New rear lights, and no more fins.
1965 DeVille Convertible

1966 DeVille Convertible


1967 - 1968: Forward sloping front end and new tail lights.
1967 DeVille Convertible

1968 DeVille Convertible


1969 - 1970: Return of horizontal headlamps, boxier look, high-back seats. Last of the DeVille Convertibles.
1969 DeVille Convertible

1970 DeVille Convertible



1971 - 1973: Heavier looking car, new rear end design, head lights spaced apart.
1971 Coupe DeVille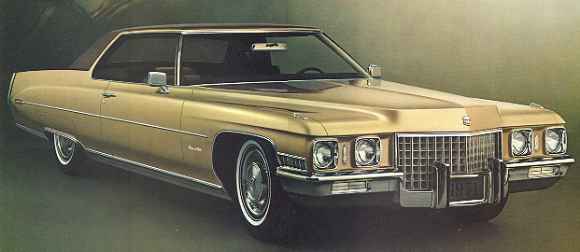 1972 Coupe DeVille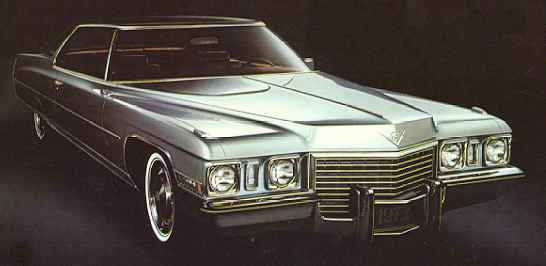 1973 Coupe DeVille


1974 - 1976: Redesign including new front and rear ends, longest cadillacs of the bunch.
1974 Coupe DeVille

1975 Coupe DeVille